Religious community helping planet
March 16, 2008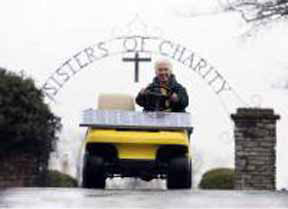 ---
Them Bones
Nun hopes to help soldiers victimized by war
---
Nuns inspired young nursing student
March 17, 2008
---
Sisters of Charity touts economic benefits of deal
March 14, 2008
---
March 14, 2008
---
Sisters of Charity Foundation elects new president
Friday, February 22, 2008
COLUMBIA, S.C. - The Sisters of Charity Foundation of South Carolina has elected Kevin A. Hall as president of the board of trustees, effective March 2008. Hall, who has served on the board since 2002, succeeds former president John Boudreaux.
Hall is active in civic and community affairs, serving on the board of directors for Catholic Charities for the State of South Carolina and Voices for South Carolina's Children. Appointed by Governor Mark Sanford, Hall served as co-chair of the Governor's Task Force on Government Restructuring and Campaign Finance Reform, chairman of South Carolina Retirement Systems Investment Panel and as Governor Sanford's representative on the Broadband Technology and Communications Study Committee.
Hall earned a Bachelor of Arts in International Studies, magna cum laude, from the South Carolina Honors College of the University of South Carolina and a Juris Doctor, with highest honors, from Emory University School of Law. He and his wife Jamie have four children.
Other newly elected board officers include Dennis Dabney, vice president; Yvonne Orr, secretary and Mike McCabe, treasurer.
The Sisters of Charity Foundation of South Carolina is a ministry of the Sisters of Charity Health System. The Foundation is committed to addressing the needs of the poor and underserved in South Carolina by addressing the root causes of poverty, nurturing the growth of healthy communities, emphasizing youth and family and measuring the outcomes of these efforts.

---
Staten Island Advance (NY)
October 18, 1991

ISLAND NUNS IN SPOTLIGHT AT SMITH DINNER CARDINAL LAUDS SISTERS OF CHARITY
Author: RICHARD EISEN; Staten Island Advance
The Sisters of Charity, leaders of goodwill missions throughout the world, were the guests of honor last night at the Alfred E. Smith Memorial Dinner, the annual fund-raiser for the Archdiocese of New York.
Smith in 1928 became the first Catholic to run for president.
Considered the city's top non-political dinner of the year, the event at Manhattan's Waldorf-Astoria was attended by such public figures as Gov. Mario M. Cuomo, Mayor David N. Dinkins and Cardinal John J. O'Connor. The guest speaker was White House Chief of Staff John Sununu.
But the spotlight fell upon the Sisters of Charity, an order that has been performing works of goodwill in New York City since 1846. The group has been working on Staten Island for more than 100 years and many of the Island Sisters were beaming at the dinner last night.
"I think it's a wonderful tribute to the Sisters of Charity," said Sister Agnes Connolly, who represented the Sisters of Charity from St. Vincent's Medical Center and Bayley Seton Hospital.
"We've been at Bayley Seton Hospital for 10 years. We've been working in the parish schools and various hospitals for years now," she said. "We think this honor is great."
More than $500,000 was raised at the dinner last night, as more than 1,000 guests donated $500 each to benefit health care programs run by the Roman Catholic Archdiocese of New York.
Cardinal O'Connor said the Sisters of Charity emulate the theme of giving that the Alfred Smith Dinner represents.
"The smartest bishop New York ever had was the first one, Bishop Concarron -- he never got here. He was named Bishop of New York and he died in Naples waiting for his ship. The second bishop was the wisest. Bishop Connolly in 1817 asked three Sisters of Charity to come to New York and take care of the orphans in the cathedral.
"The third bishop was the toughest. He demanded -- demanded -- that the Sisters of Charity establish a New York federation and they've worked hard ever since. Their work has been literally prodigious," he said.
Monsignor Peter G. Finn, pastor of St. Joseph and St. Thomas Parish, Pleasant Plains, last night said the Sisters of Charity offer help that the needy of Staten Island could not do without.
"I've been associated with the Sisters for almost nine years now and it's always been a labor of love," he said. "They do so much, from health care to education, and it will be nice to see that the newspapers, filled with such negative news for two weeks, will be able to give proper attention to people who do work for other people. I hope they continue for another 100 years."
Sununu addressed the audience after O'Connor's wisecrack-laden introduction and poked fun at his own rocky past of using government planes and limousines to attend private affairs.
"We had trouble getting to the affair tonight -- we had trouble landing the B-2 plane in Central Park," Sununu joked. "Then we had to park it in front of the hotel but you know how tough it is to find a parking spot. But for those of you who didn't see the B-2 land, call the New York Times and tell them the technology actually works."
After reeling off a few more one-liners, Sununu turned serious and told his audience that the movement toward democracy in Eastern Europe and other parts of the world represents a triumph of Western values.
He also urged Americans to work for change in this country while keeping in mind the principles on which our democracy was founded.
Copyright 1991, 2006, Staten Island Advance
---
Star-Ledger, The (Newark, NJ)
August 22, 1999
Cybernuns: Sisters of Charity open house on the Web
Author: Jacqueline Cutler
The Sisters of Charity of St. Elizabeth have ministered to the poor from Alaska to El Salvador. Now, they're sisters in cyberspace.
"The Web is really going to be one of the major forms of communication," said Sister Irma Kessler, known as the Webweaver for her computer savvy. "If you are not on the Web, you are not going to be visible."
Kessler, an associate professor of biology at the College of St. Elizabeth, perused various religious sites on the Web, but said, "They didn't say much or were something I didn't want to be associated with."
So she and Sister Deborah Humphreys created www.scnj.org. Last week, they were in the process of linking it with 500 other sites on the Roman Catholic Web ring.
Humphreys, who was on sabbatical in Ireland, did the art. Kessler, the vice president of the Northern New Jersey Chapter of the Association of Women in Computing, wrote the program. The art is of a bright light, intended to signify "God's vision," Kessler said. The light intensifies inside a prism, symbolizing the congregation of sisters. It exits as a rainbow, meant to be the ministry. A train, to take visitors to Convent Station, runs along the bottom of the screen. Each page (Vision, Mission, Ministry, Members, Giving, Spirituality and News) explains topics to visitors, and offers ways of getting in touch with the sisters.
The site states the order's vision "to work with and for the poor; to alleviate suffering and dispel ignorance; to promote justice." It tells of the order's history, and explains how it has adapted to the times with its HIV counseling and ESL programs. The Web also explains how to become more involved - from whom to contact when considering joining the order, to volunteering. And, it throws in some politics, advocating for "the cancellation of the debts of the heavily indebted countries."
When the site was just a few days old, it was proving popular. Other sisters e-mailed Kessler, calling the Web page "wonderful, insightful and thought-provoking." Some praised the art, others the text. Eight days after the page was launched, it registered 374 hits.
Kessler wants the sisters' message spread beyond people of the cloth.
"Our hope was to make the sisters a more visible presence, and (to let people know) that we are alive and well in Convent Station," Kessler said. "And, to hopefully attract new women to join us. Third, if people want to support us in any way (the site explains how). And fourth, to say God is alive and well in North Jersey."
Convent Station, a suburb of Morristown, is home to the Convent of St. Elizabeth, where 74 Sisters of Charity and several visiting nuns live. There's also the College of St. Elizabeth, the Academy of St. Elizabeth and their nursing home, St. Anne's Villa. Elizabeth Ann Seton founded the Sisters of Charity in Maryland in 1809. Mother Mary Xavier Mohegan started the New Jersey community 50 years later.
Although sisters teach in a variety of schools, tend to the sick as doctors and nurses, and advocate as lawyers, many people are simply unaware of the sisters' presence. Kessler, 65, recalls that when she left her teaching post at Seton Hall 20 years ago, some faculty members had never heard of the College of St. Elizabeth. This continues to rankle her.
There are 647 Sisters of Charity in the New Jersey community, some of whom are working abroad, and another five women are in different stages of taking their vows. Some wear habits, and others, like Kessler, are more casual in slacks and a top.
An unrepentant fan of Arnold Schwarzenegger, who is up to the minute on electronic gadgets, Kessler has been a sister since 1951. Over a lunch of quiche and ambrosia in the convent dining hall with Mary Aktay, director of communications for the Sisters of Charity of St. Elizabeth, Kessler says she's concerned that fewer women are making the same choice she did. The trend has been that each year 10 sisters die and one enters the convent.
"The religious life also responds to the times," Aktay said. "As far as women are concerned, religious life has always been a way for self-actualization."
Kessler added, "I was liberated long before it was fashionable."
Copyright 1999, 2001 The Star-Ledger
---
Pittsburgh Post-Gazette (PA)
December 5, 2001

"A WONDERFUL ASSET TO OUR SPIRIT:" SISTERS OF CHARITY VALUE DISABLED WORKERS
Author: SUSAN JACOBS
When Sister Jean Augustine needed to fill positions at the motherhouse of the Sisters of Charity of Seton Hill, she looked heavenward and prayed. The executive director of Caritas Christi said her prayers soon were answered.
In short order, she received calls from job counselors at the Clelian Heights School for Exceptional Children and the Youngwood branch of Team PA CareerLink. The counselors were trying to find jobs for physically or mentally disabled workers.
"I saw that as God's answer to my prayers," she said. She later hired a handful of workers from Clelian Heights and three women referred through CareerLink, a multiagency center for people seeking jobs.
"They're dependable workers," she said. "They do jobs that really need to be done. They're a wonderful asset to our spirit."
It doesn't bother her that the workers might need help or extra time completing some tasks.
"We have higher values than just production," said Augustine. "We respect each person very much for whatever that person is."
She said the order's commitment to charity was one of the motivations behind the decision to hire the workers.
The Sisters of Charity were honored recently as an employer of the year by Life's Work of Western Pennsylvania, which recognizes efforts to hire people with disabilities.
Lea Pizzutelli, a placement counselor for Life's Work who works for CareerLink, nominated the Sisters of Charity for the award, after Augustine hired three women Pizzutelli referred to her.
"They're very caring," said Pizzutelli. "It's a nurturing environment. They take people's disabilities into consideration."
Pizzutelli said it's unusual to find an employer so eager to hire workers with disabilities. In one case, Augustine even created a position so she could hire a disabled woman.
Since August, Lynn Day has managed the gift shop at Caritas Christi. Once a school teacher and tennis coach, in 1989 Day was struck with Guillian Barre Syndrome, a devastating virus that swept through her body and left the former athlete paralyzed from the neck down. She has regained the use of her arms, but relies on a wheelchair to get around.
Despite earning a master's degree in counseling after she became disabled, Day, 49, of Greensburg was unable to find work that she found fulfilling.
Pizzutelli introduced Day to Augustine several months ago, and the nun became determined to find a job at Caritas Christi to suit Day's talents. The personal care facility, housed in a building that is just two years old, was supposed to include a gift shop, but no one had been hired yet to manage it. Augustine decided Day would be the person for the job.
"I think it's very important that we give people an opportunity to show what they can do," said Augustine.
Day can't reach the shop's highest shelves from her wheelchair, but Augustine said other employees help her out when she can't complete a task.
"She gives us an opportunity to serve those in need, which is what we're all about," said Augustine. Day works about 20 hours per week for the Sisters of Charity.
For Day, the job gives her life purpose and makes her feel that she is needed.
"It wasn't about wages," she said. "It's what it's done for me. I'm able to help others. That gives you a real good feeling."
Day said she's thankful for the job and glad to be working in an environment where spirituality is important. She said the sincerity of Augustine and others has been a big comfort. "I feel real good about being here," said Day. "I'm accepted here. I'm very, very thankful."
Paula Gross, 47, of Greensburg has been working at Caritas Christi since March. A special education teacher for 17 years, Gross left teaching a few years ago when she began suffering severe memory losses caused by a brain tumor that was removed in 1985.
Gross works in the memory loss unit at Caritas Christi, helping nuns who have had strokes or suffer from Alzheimer's disease.
"I love it more than I liked teaching," said Gross. "I don't feel like I go to work."
She works with the nuns to stimulate their memories, which in turn has helped Gross recall some things she had forgotten.
Sister Harold Ann Jones supervises Gross and a young woman from Clelian Heights who assists the nurses' aides at the facility. She said it can be challenging to work with employees who have special needs but that it is important to keep high goals for them.
"You never know what they can do," she said. "If they can't do the job, you find something they're able to do."
Augustine said the extra effort is well worth it and is instructive to the other employees of Caritas Christi. "It's an attempt to get people to be conscious that we are all handicapped in one way or another." Rather than focusing on limitations, "We should concentrate on strengths," she said.
Copyright (c) 2001 Pittsburgh Post-Gazette
---
State, The (Columbia, SC)
September 7, 2001

FAITH, HOPE AND CHARITY
Author: ALLISON ASKINS
150 years after the first Sisters of Charity came to America, the order continues to serve Providence Hospital and the Midlands
The night crickets are chirping outside the front gates of Providence Hospital on Forest Drive, near downtown Columbia. The sun has not quite risen and a misty rain is falling. It is just before 7 a.m.
Even so, day has long since broken for half a dozen Sisters of Charity. They are seated in the hospital's chapel, preparing themselves for a full day of celebration and activity.
On this day, they will dedicate a prayer garden at Providence Hospital Northeast, attend a Mass honoring the 150th anniversary of their order's work in America, bless a courtyard at the main hospital, attend a board meeting in the afternoon and another 150th- anniversary reception at 7 p.m.
The sisters and Father Jerry Ward are giving thanks for the work they have been called to in South Carolina. "He wants us to be ready to be with each other," the priest says quietly, explaining the day's Gospel lesson.
Since 1938, the Sisters of Charity have been "with" those in need in South Carolina. In that year, Providence Hospital first opened with 98 adult beds and 26 bassinets.
Today, only three members of the order live here full-time, but the sisters' influence is far from diminishing. Each of the three women here is still fully engaged in the religious order's work - whether it be making site visits to programs that have received grants from the Sisters of Charity Foundation, tending to medical records or working with hospital volunteers.
Also, two years ago, Providence Hospital expanded to include Providence Northeast, a full-service hospital in Columbia's Northeast region. In 1996, the Sisters of Charity Foundation was formed, which has provided some $14 million in grants since its inception.
And just this summer, the religious order of 90 sisters based in Cleveland purchased back their two Columbia hospitals from for-profit HCA of Nashville after becoming concerned about the company's focus.
Today, Providence Hospital and Providence Northeast are part of the Sisters of Charity of St. Augustine Health System, which includes four hospitals, a preferred-provider organization, a physician network and a medical equipment company.
"Although the numbers were small, the impact on this community was very significant," Tom Keith, executive director of the Sisters of Charity Foundation, said of the sisters' work.
After the brief Mass, the sisters quietly file out into the misty rain and walk across the lawn to their house for breakfast.
There, they are greeted by the convent's two meditating cats, Ubi and Prizzi. The sisters gather around the kitchen table for a breakfast of scrambled eggs, bacon and sweet rolls from the hospital cafeteria.
"The Indians won. That's the important news of the day," announces Sister Judith Ann Karam, in town from Cleveland. Karam is president and chief executive officer of the Sisters of Charity Health Care System. She is teased frequently about her passion for the American League baseball team in Cleveland.
Soon, they are scattered, preparing for the day of celebration ahead.
It is a steamy August afternoon and Sister Mary Jacob Yelcho, 75, sits on the couch of Tracey Ely's home in Eau Claire.
Eight neighborhood children move about the house, finding a spot to settle in and do their homework. A den is set up with a computer and a large desk. Baskets of snacks sit off to the side.
Sister Mary Jacob, associate executive director of the Sisters of Charity Foundation, is making a site visit for the foundation, which provides grants to programs that are working to alleviate poverty across the state.
"It's the people that get you, the people like this," Sister Mary Jacob says, nodding toward Ely. Sister Mary Jacob has been getting to know residents of South Carolina since 1959, when she first arrived on the South Carolina "mission field."
"This is what I find on every site visit," she says of Ely's good work. "The world is full of them."
Ely began the homework center four years ago after she and her husband sold their dream home in southeastern Richland County and moved to Eau Claire. They made the move because they believed God was leading them to continue the work of their church, Capital City Church on Monticello Road.
The grant awarded to Ely's program will pay for snacks, supplies and an assistant so Ely can spend more one-on-one time tutoring the children.
Sister Mary Jacob doesn't miss the poignancy of the moment when one of the children comes into the living room and opens up a book and begins to read out loud. Three years ago, Ely notes, this child could not read.
"Sometimes I cry," Sister Mary Jacob says of her site visits.
When Sister Christopher Vozobule was 24, she made her decision to commit her life to the work of the Sisters of Charity of St. Augustine in her home state of Ohio.
"I hung on to my social life for a while," the 74-year-old nun says today of her decision to enter the convent. "I was no youngster when I decided."
Sister Christopher's vows of obedience came after a joyful youth filled with dances, roller skating and family. She was one of nine children..
Her years in a big family prepared her well for living full-time in a community with others, she says. And, yes, some of her early reluctance to answer God's call was rooted in her own desire for a family, she adds.
But, once the decision was made, she was filled with peace and has never considered any other life. She has been in South Carolina since 1969, and although now retired, she still goes on site visits with Sister Mary Jacob and helps with the hospital volunteer program she formerly coordinated.
"God lets you know," she says. "There are all kinds of loves in life."
At 66, Sister Kathleen Barnes is the youngest of the three sisters living full-time in the South Carolina convent.
It is a warm, spacious house, built after the sisters voted unanimously to give up their former home for hospital office space. They told the hospital board they would find another place to live on the bus line or within walking distance, but hospital officials insisted on building another house for them.
There are nine bedrooms and a private chapel. At one time as many as 16 sisters did the work of their order in South Carolina.
On this quiet Friday evening, Sister Kathleen sits in the chapel talking about her vocation. Two rose corsages from the celebratory Mass held at St. Joseph's Catholic Church the day before rest on the altar.
Sister Kathleen, like her contemporaries, is a trained nurse, but in recent years moved into hospital administration work as a second career. She is an information analyst in medical records at Providence Northeast.
Another passion in her later years has been the sisters' associates program, which allows lay people to study and grow spiritually within the Sisters of Charity community.
Participants in the associates program do not have to be Roman Catholic - only Christian.
Associate participants gather every other month with the sisters. They reflect on specific topics, share a meal together and take part in Bible study. There are currently five associates and eight participants in the orientation program.
"A lot of my free time is devoted to this," Sister Kathleen says. "This is a real joy for me."
It is late into the evening. The group of seven sisters staying at the Columbia home - several visiting from the Cleveland convent - are piled into the living room for a summer evening of the Cleveland Indians.
"We got on our pajamas and robes and we all sat around and watched the whole game," Sister Mary Jacob says later with the broad smile that is her trademark.
Ordinary? Yes. Very ordinary. And that is what these women say they are more than anything else.
"We're so ordinary it's pathetic," Sister Mary Jacob quips.
Sister Christopher offers the same observation with a bit more reverence.
"Sometimes I can't understand why people think we do things differently," she says. "We are ordinary people. It's just that we take ordinary things and try to make them extraordinary."
THE SISTERS
* The work of the Sisters of Charity of St. Augustine began in this country in 1851 in what is now Cleveland, Ohio. There are about 90 nuns in the order today working in Ohio, Kentucky and South Carolina. Their work is primarily related to hospitals and health care although they are also involved in child care and initiatives to alleviate poverty.
* Because the Sisters of Charity are based in Ohio, there never have been large numbers of their order here. Early in their history, as many as 15 sisters lived in Columbia. Today, three live here full-time. The historically small population of Roman Catholics in the state has also played a role. There are about 126,000 Roman Catholics in South Carolina today, which, although the largest Roman Catholic population in the state's history, still only represents about 2 percent of the total population.
* The sisters' daily routine begins early with prayer and the Eucharist, followed by breakfast and the day's work. Upon return home, they gather for evening prayer and dinner. The day concludes by 10 or 10:30 p.m. The sisters living in Columbia share housekeeping chores, monthly rotating duties like cooking, cleaning, grocery shopping and feeding their two cats.
* A final 150th-anniversary community celebration for the Sisters of Charity will be held Sept. 19 from 10:30 a.m. to 2:30 p.m. at Seawell's on Rosewood Drive. Gene Cohen, director of the Center on Aging, Health & Humanities at George Washington University, speaks at 11 a.m. The Rev. Fred Smith, director of the Summer Youth Institute at Pittsburgh Theological Seminary, speaks at 1:30 p.m. For more information, call (803) 254-0230.
Copyright (c) 2001 The State
---
Staten Island Advance (NY)
September 18, 1992

FOLLOWING IN THE FOOTSTEPS OF MOTHER SETON SISTERS OF CHARITY: 175 YEARS OF SERVICE
Author: JULIA I. MARTIN
A portrait of St. Elizabeth Ann Seton, founder of the Sisters of Charity.
Above, chatting with Mario Castioni in the Bayley Seton gerontology department are its director, Sister Margaret Murphy, center, and associate director, Sister Eileen Judge. At right, a photo from the 1960s portrays a Sister of Charity with a child in the pediatric unit of St. Vincent's Medical Center.
Advance Photos by Frank Johns
Sister Jude Trank teaches a class on global studies to students at St. Joseph by-the-Sea High School.
ADVANCE STAFF WRITER
In the male-dominated society of the early 1800s when women were not expected to be achievers or innovators a group of religious women with very few resources began founding orphanages, hospitals and schools in New York, Baltimore, Guatemala and the Bahamas.
During the course of 183 years, the Sisters of Charity have taught in over 100 schools.
Among the many they founded is St. Peter's in New Brighton, established nearly 140 years ago and the old continuing Catholic high school in the Archdiocese of New York.
More recently, Mother Loretto Bernard, who died in June, founded St. Joseph by-the-Sea High School in Huguenot in 1965.
Nursing the sick
Sisters of Charity have nursed the sick those in smallpox and cholera epidemics; those wounded in the Civil War or afflicted with tuberculosis, and, in the present day, people with AIDS.
They have founded hospitals, among them St. Vincent's Medical Center in West Brighton and Bayley Seton Hospital in Clifton.
Now the order is establishing residences for the aged and the homeless in Manhattan and caring for battered women and abused children.
Their founder, St. Elizabeth Ann Bayley Seton, who spent part of her childhood on Staten Island, has earned the distinction of being the first American-born person to be canonized.
Mother Seton as she is more familiarly known was the daughter of Dr. Richard Bayley. Bayley founded the U.S. Quarantine Station at Tompkinsville near the turn of the 18th century.
The New York woman was born just two years before the Revolutionary War and was reared an Episcopalian.
Her grandfather, Dr. Richard Charlton, was a rector at St. Andrew's Episcopal Church in Richmond, and her grandparents, parents, sister and mother-in-law are buried in its cemetery.
She married William Magee Seton in 1794, and they had five children before he died of tuberculosis in 1803, when she was 29.
Two years later, she converted to Roman Catholicism; four years later she founded the Sisters of Charity of St. Joseph in Emmitsburg, Md.
In the city since 1817
The congregation, America's first religious com munity, came to New York as the Sisters of Charity of St. Vincent de Paul and established St. Patrick's Orphanage on the Lower East Side in 1817.
Mother Seton was 47 years old when she died of tuberculosis in 1821.
Because the Sisters of Charity founded and staffed many elementary and secondary schools and two colleges, Mother Seton was named patroness of education for the Archdiocese by Cardinal John O'Connor in 1987.
She is also considered the "Mother of the American Parochial School" and the "Mother of American Christian, especially Catholic, Charity."
Upholding the tradition of the congregation, Sister Bernardine Mary, principal of St. Peter's Girls High School for 20 years, was named an "Educator of the Year" last year by the Staten Island Continuum of Education.
On Sept. 27, the Sisters of Charity will celebrate their 175th anniversary of serving the people of New York. The congregation, whose membership peaked in the 1950s at about 1,400, now totals nearly 670 sisters.
Cardinal O'Connor will be chief celebrant of a concelebrated liturgy of thanksgiving in St. Patrick's Cathedral in Manhattan at 2 p.m.
An Island hospital
Ray Pohlod, director of community relations for St. Vincent's Medical Center, says the Sisters of Charity "came here and got this property for $30,000 a millionaire's abandoned mansion. They were looking for a place in the country where they could transport their patients from St. Vincent's in Manhattan to recover from tuberculosis.
"But it was very evident early in the game that Staten Island needed its own hospital," Pohlod says. "On the day the doors opened, Nov. 6, 1906, the very first patient was an emergency a men whose horse and wagon was hit by a trolley car on Richmond Turnpike, now called Victory Boulevard. And that's how it all started."
Bishop Patrick V. Ahern, vicar for development in the archdiocese, says the Sisters of Charity "have made an enormous contribution a constant presence that has been identified with Staten Island for years and years, and continues to be."
Bishop Ahern, former episcopal vicar on Staten Island, adds: "The Catholic Church on Staten Island and the community can never overestimate their debt to the Sisters of Charity, nor repay the sisters for all that they have done."
Copyright 1992, 2006, Staten Island Advance